Visit our Fabric Store in Sydney
At the same time as running the largest fabric online store throughout Australasia, we also a retail outlet in Sydney, located at 494 Botany Rd Alexandria. Just 10-15 from the CBD or 10 minutes from the airport.
Getting to The Remnant Warehouse
By train: Take the T8 line from Central Station or the airport to Green Square. Our shop is a 800m walk from the station down Botany Road. You could also jump onto the 309 bus from Green Square Station Botany Road Stand C bus stop & get off at Botany Road opposite Collins Street stop to arrive across the road from our shop.
By bus: From Redfern Station catch the 309 from Stand C Regent Street and get off at Botany Road opposite Collins Street stop to arrive across the road from our shop.
By car: Our shop is located half way between the airport and the CBD on Botany Road. We are opposite the big blue Dulux trade centre. There is street parking available on Botany Road (check signs for clearways if arriving before 10am or after 3pm) and the surrounding streets.
Accessibility: Our shop is wheelchair accessible with an automatic double door and all on one level. Our fabric stands are all on wheels, so if any of the areas are too tight to navigate in a larger motorised chair our staff are more than happy to move any stands around to make shopping more comfortable.
Toilets: We have a customer toilet for all all gender expressions, however due to the location and layout of the bathrooms, we are not able to offer a wheelchair accessible toilet.
The fabric store for patchwork fabrics, haberdashery & designer trims & apparel fabrics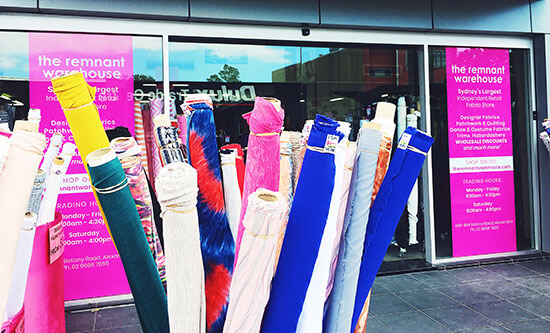 This is the bigger of the 2 stores and stocks hundreds of bolts of american patchwork cottons, rolls of fabrics from Sydney's latest fashion designers and a trim wall that is considered the largest in Australia.
patchwork & fashion cottons over 2000 rolls
quilters plain cottons 80-100 colours
quilting accessories
silks, linens and many cotton blends
viscose rayons, suitings mid weight fabrics
felt over 25 colours always available
calico and we specialise in event and party fabrics
threads, zips, elastics, velcro
all your sewing requirements in this 1 stop shop
linings and interfacings
Lycra, dance, theatrical & glitter fabrics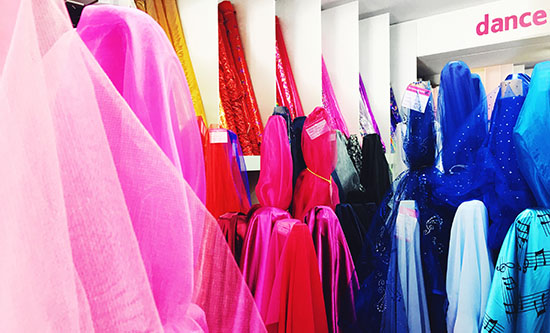 We have everything under one roof including tonnes of lycra fabrics for dance, sport and swimwear, loads of theatrical fabrics, tulles, sequins, velvet and a treasure trove full of accessories, from buckles and clips to shoulder pads, bra cups and much more!
plain shiny lycras (over 30 Colours)
printed and plain spandex and lycras
holographic foil spandexs
sequins, dress nets, organzas and more
The Remnant Warehouse
494 Botany Road, Alexandria NSW 2015
Ph. 02 9698 7855
Shop Trading Hours
Monday - Saturday: 9am to 4pm
CLOSED on Sundays & Public Holidays
Buy Fabric Online to Click & Collect in store
Collection available within our trading hours.
Customers at The Remnant Warehouse can shop online to have their fabrics shipped to them, come and browse and shop in store, or place an order for their fabrics online then come in store to pick up. Our Click and Collect option is great for customers who want to secure their fabrics, but also want to take some time to browse our store to find matching threads and trims. As the majority of our fabrics are one off designer remnants, sometimes a fabric that you had been eyeing off online might not still be there by the time you're able to come in store, so if you know you want to come and browse but don't want to miss out, we recommend ordering your fabric with Click and Collect now so that your fabric will still be here for you when you can make it in.