Visit our Fabric Stores in Sydney
At the same time as running the largest fabric online store throughout Australasia, we also have 2 large retail outlets in Sydney, located at 490-494 Botany Rd Alexandria. Just 10-15 from the CBD or 10 minutes from the airport.
If you're catching public transport the 309/310 bus from Central stops out the front of our store or the closest train station from central or the airport is Green square with a brisk 5-10 minute walk.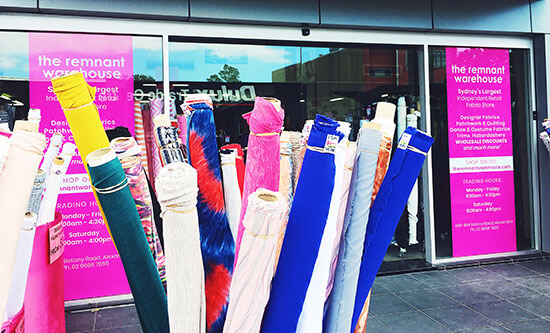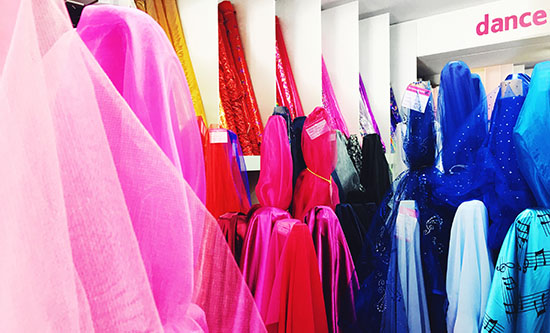 The fabric store for patchwork fabrics, haberdashery & designer trims & apparel fabrics
This is the bigger of the 2 stores and stocks hundreds of bolts of american patchwork cottons, rolls of fabrics from Sydney's latest fashion designers and a trim wall that is considered the largest in Australia.
patchwork & fashion cottons over 2000 rolls
quilters plain cottons 80-100 colours
quilting accessories
silks, linens and many cotton blends
viscose rayons, suitings mid weight fabrics
felt over 25 colours always available
calico and we specialise in event and party fabrics
threads, zips, elastics, velcro 
all your sewing requirements in this 1 stop shop
linings and interfacings
Lycra, dance, theatrical & glitter fabric store
Our second store is packed to the brim full of lycra fabrics for dance, sport and swimwear, loads of theatrical fabrics, tulles, sequins, velvet and a treasure trove full of accessories, from buckles and clips to shoulder pads, bra cups and much more!
Up the back of the store, we also have our famous zipper buckets, with 6 zippers for $2! 
plain shiny lycra's (over 30 Colours)
printed and plain spandex and lycra's
holographic foil spandex's
sequins, dress nets, organza's and more
The Remnant Warehouse
490-494 Botany Road, Alexandria NSW 2015
Ph. 02 9698 7855
Shop Trading Hours
Monday- Friday: 9am to 4:30pm
Saturday: 9am to 4pm
Closed on Sunday & Public Holidays